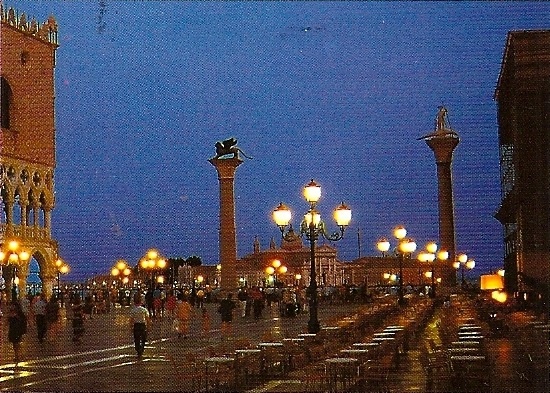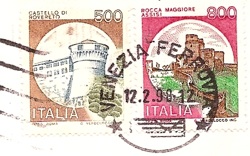 February 11, 1998
Buon Giorno!
Venice is a charming city of canals, bridges, gondolas (of course) and no cars.
By day people are readying for Carnevale on Friday, complete with masks and confetti by the kilo. By night, the city is romantic. OK, I'm guessing at the latter since I'm traveling with a new friend and Brad, whom I met in Madrid and then by accident on the train coming here.
I'm just happy to be eating real pizza and pasta, and gelato morning, noon and night. Not an exaggeration. It is that good. Fresh flowers, candy and elegant pastries add to the city's sweetness.
February 14, 1998
I find myself experiencing more and writing less, which is fab for journeying but not so much for journaling. Saving all my tickets, souvenirs and postcards will hopefully be sufficient in recalling important events and memories.
What I remember of Rome.
My hotel being next to a sex shop, a fact lost in the fog of overnight trains but made clear at night in the glow of neon lights. Getting stuck in the ring near the Vatican, going round and round, drowning in pollution and horns honking, and finally exiting after 15 minutes. The grotesquely Baroque and excessive St. Peter's Basilica, dripping with gold, next to the restrained elegance of the Sistine Chapel and Michelangelo's Last Judgment. Touring the Capuchin Crypt, a macabre monument to life and death.
The Spanish steps, but more importantly the Keats-Shelley museum at the foot of those stairs. Confusion over prepaying at the cafe-bar and the absolutely delicious, homemade coconut-pistachio gelato at legendary Giolitti's. An expected (and free!) exhibition by the great Sebastiao Salgado. The Pantheon and O Colosseo.
I didn't do as Romans do. I did what I could in three days.