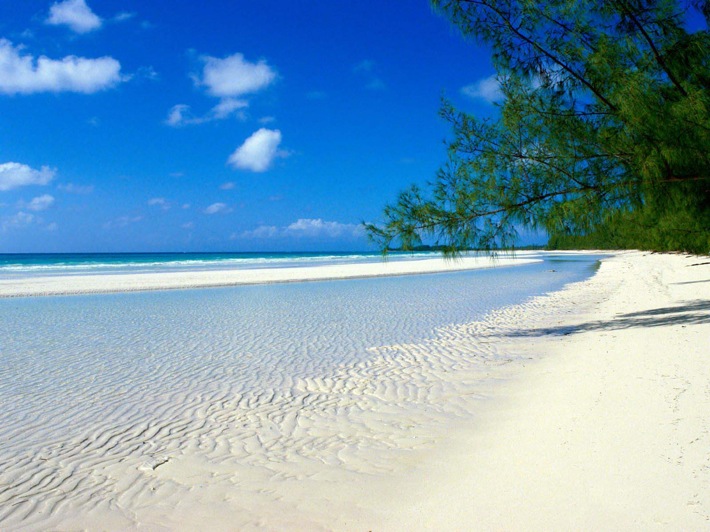 Most people come here on a booze cruise or to shop. I'm here for Junkanoo, Johnny cakes and conch fritters.
Airport guards pull me aside at baggage claim on suspicion of being a terrorist because I'm only carrying snorkel gear and a carry-on of clothes and toiletries.
The only beaches I find are crowded and organized, with overpriced umbrellas for sunburned tourists — nothing like the one pictured — and all the fish frightened away by children. My hotel is a dive. Giant roaches fly in through the AC in the first room, the rug is full of indescribable things in the second, and the ceiling caves in and leaks in the third. No more rooms here or anywhere without paying $350 a night, so I use buckets, glasses and bowls to catch water as it pours rain for three days.
Conch is meh. The best food I discover is at a broken-down roadside shack frequented by locals. That food, Goombay punch, a walk around Nassau and welcoming people are the only good things I can report. I'm happy to head back to Miami.
Within 12 hours of landing, I learn that he could not wait for me to come home in three days and I'm now the oldest living person in my family.

var _gaq = _gaq || []; _gaq.push(['_setAccount', 'UA-47720097-1']); _gaq.push(['_trackPageview']);
(function() { var ga = document.createElement('script'); ga.type = 'text/javascript'; ga.async = true; ga.src = ('https:' == document.location.protocol ? 'https://ssl' : 'http://www') + '.google-analytics.com/ga.js'; var s = document.getElementsByTagName('script')[0]; s.parentNode.insertBefore(ga, s); })();