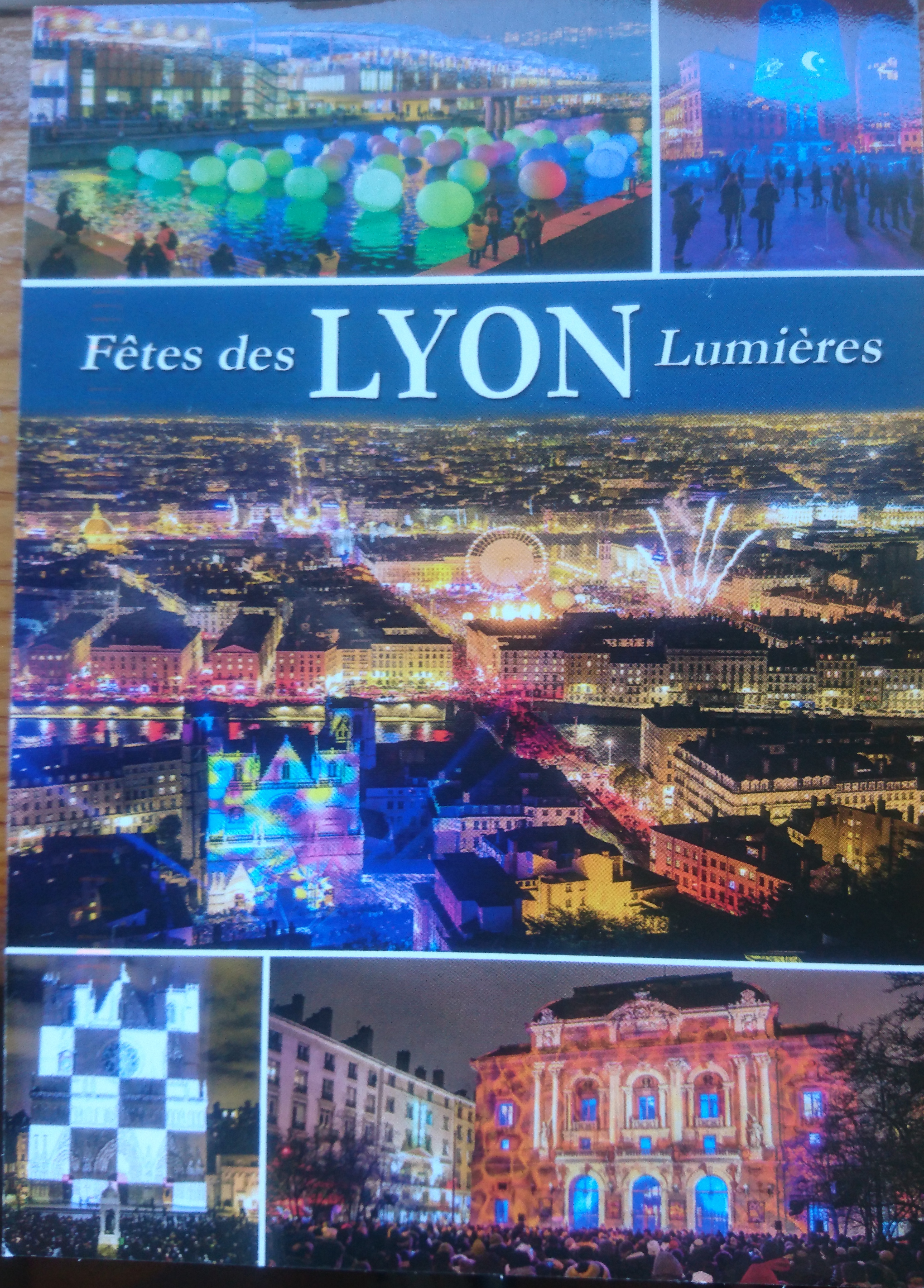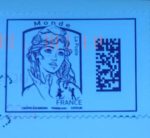 Again in the gastronomic capital of France, and now more traveled, I loved the beautiful melons, symmetrical artichokes, cute baskets of cherry tomatoes, plus pink pralines, coussin and my self-induced macaron-a-thon. Mayo has mustard, Bresse is the best, and chardons burst with alcohol.
Missed Remi, traboules, and sometimes sunshine and water, but partied on a boat, saw Fourviere and Saint Jean, walked tons, kept my flight and celebrated Bocuse. Good times. Thank you, Lyon! No doubt we'll be together again someday.
–postcard dated 27 April – 3 May 2018–
Brought back to Lyon by a pact to attend a conference where a friend  was speaking, this fell through due to a death in the family and further complicated by a general strike.
Overall this trip was the opposite of my first one a decade ago, when I saw the city on a budget and through the eyes of two friends who were students here. I remember very little and don't have a postcard to remind me; my only memory is forgetting two rolls of film that needed to be sent to me in California and wiring reimbursement.
Finding myself an environmentally friendly aparthotel with swimming pool after canceling a shared posh penthouse by the river, I loved Confluence with its jardin aquatique, upscale vibe and playful architecture.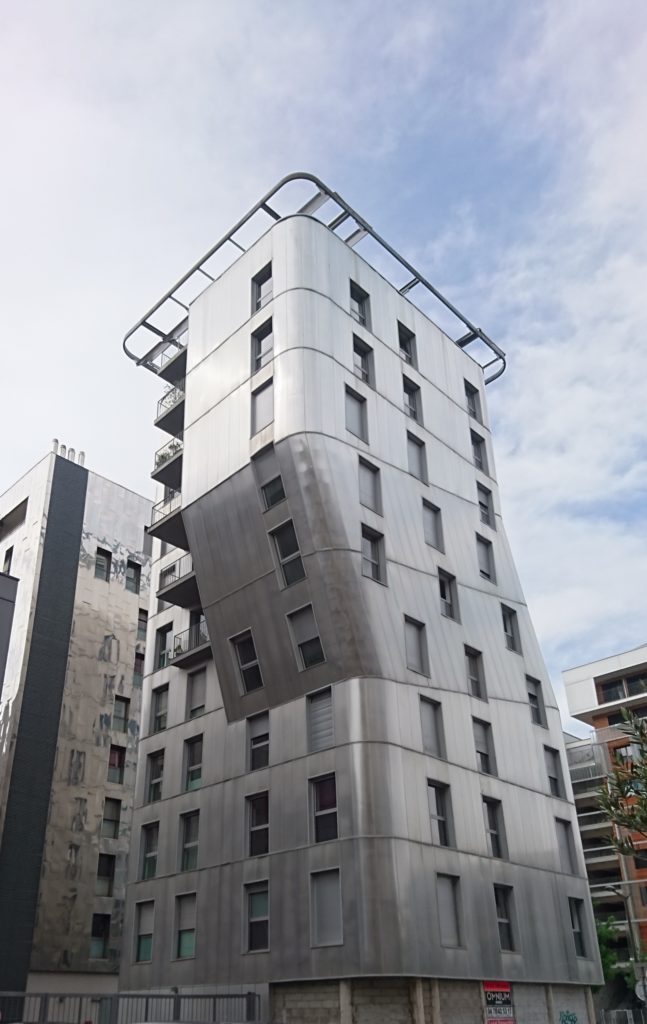 Produce at Carrefour was amazing, and I discovered a lot more to like in the cosmetics and hair care section as well. Would've stocked up if I had real estate in my luggage, and enjoyed a chat in English with the cashier who once lived in California and returned to Lyon because quality of life is better in France.
On the day of my first walkabout, the water in the aparthotel shut off midway through a 5-min shower, and the only water I had were two big bottles. In the fridge. Another "glamorous" moment.
Armed with research on what to eat in Lyon, I'm on the hunt for coussin at Voisin, pink pralines at Pralus, and Le Kir Framboise at Les Vieux Garcons. Just to start. Also made a reservation at a bouchon for the last night.
My eyes got too big at Voisin and, as usual, I bought a bunch of mystery items. While there I also served as translator for Americans trying to buy macarons yet insisting on asking questions that French-speaking staff couldn't answer. Here's a tip: Learn some of the language if you have allergies. Otherwise, take a risk and live a little.
That's how the first incident of accidental drunkenness happened. I popped a bonbon in my mouth without knowing what it was, and surprise! Pure alcohol. It's 10:00 in the morning, and I'm buzzed and worried about side effects from finishing five more. Remi starts laughing via emojis.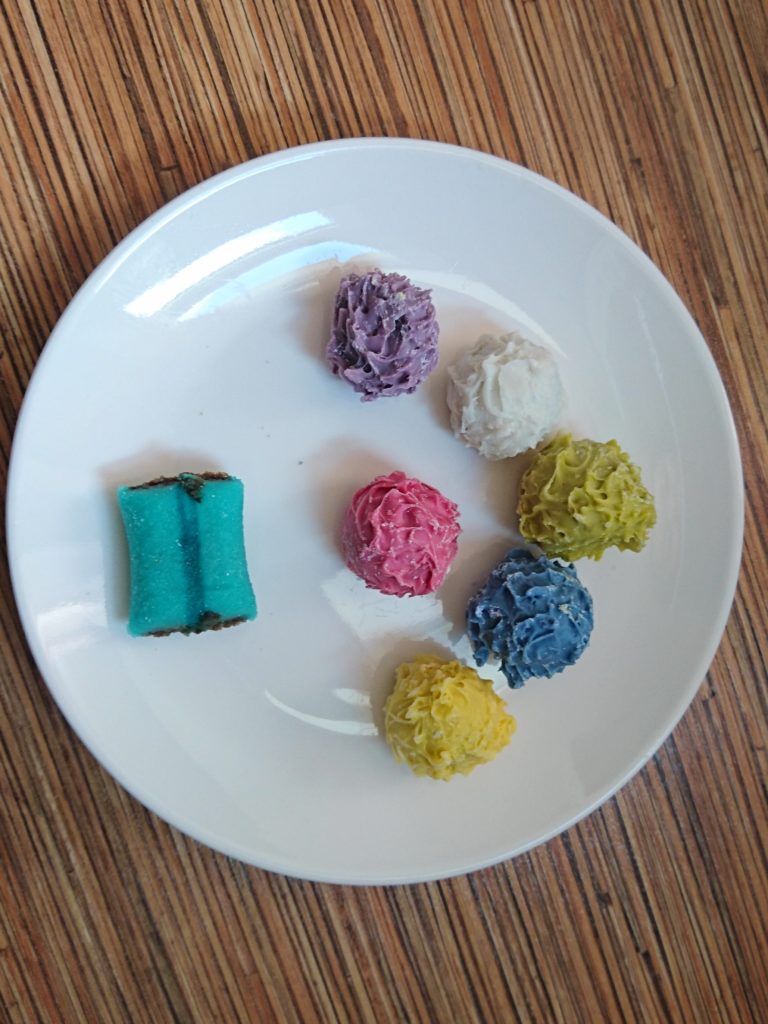 On the left is the signature coussin (cushion) made of marzipan and Curacao. On the right are chardons (thistles) made of premium white chocolate and liqueur — brandy, Cointreau, rum and Grand Marnier. Each is different, depending on the color.
Everything shut down on May Day, so I planned to take a night walk after a full day of work. But it rained a lot, and these were less than ideal conditions for unknown wanderings on uneven pathways, many of them uphill and in the dark.
That meant a jam-packed itinerary on the last day. First up, a macaron-a-thon: Bouillet, Lautrec and Seve. I bought a few from each, which was easy because they looked delectable and all offered a plethora of flavors I'd not seen or tasted before, including lychee raspberry, fig with gold flecks and white chocolate mandarin.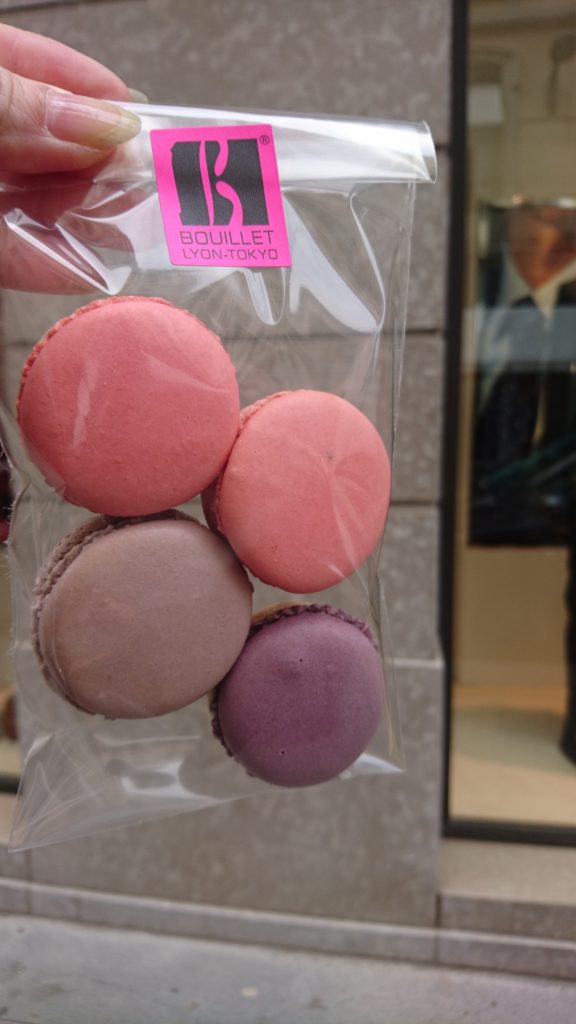 Sufficiently sugared up, I started the walking tour with Saint Jean Baptiste Cathedral.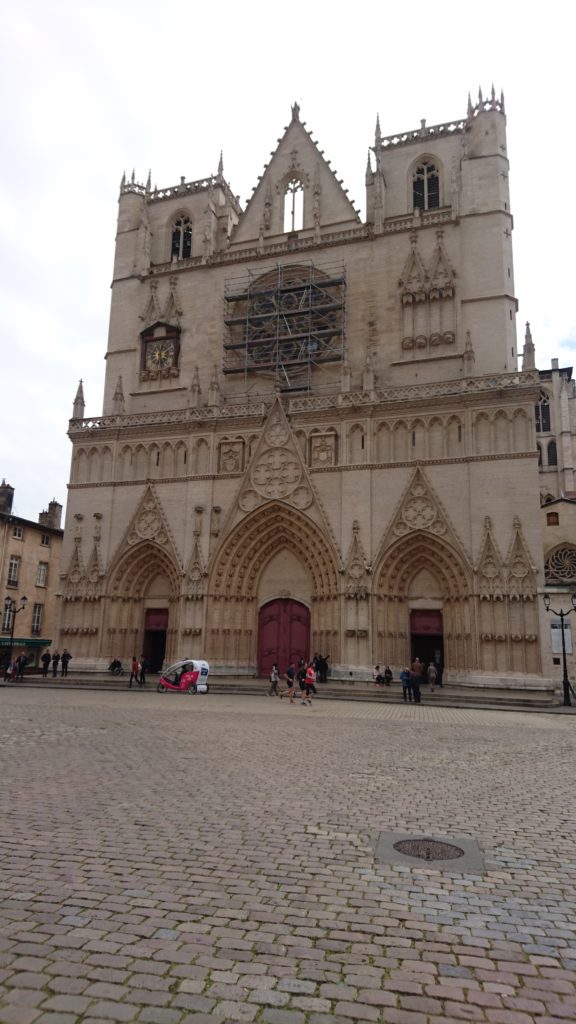 Then onto the Gallo-Roman Museum.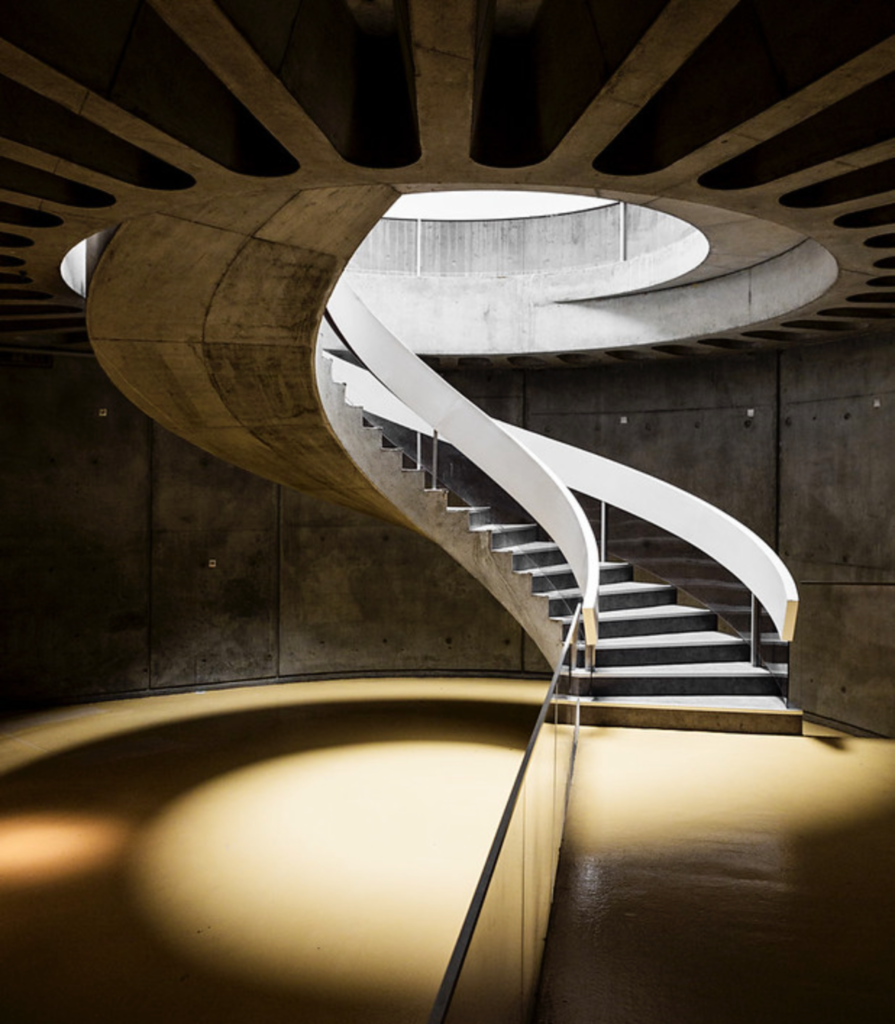 Climbing higher to the Basilica of Notre-Dame de Fourvière, as seen from afar and up close.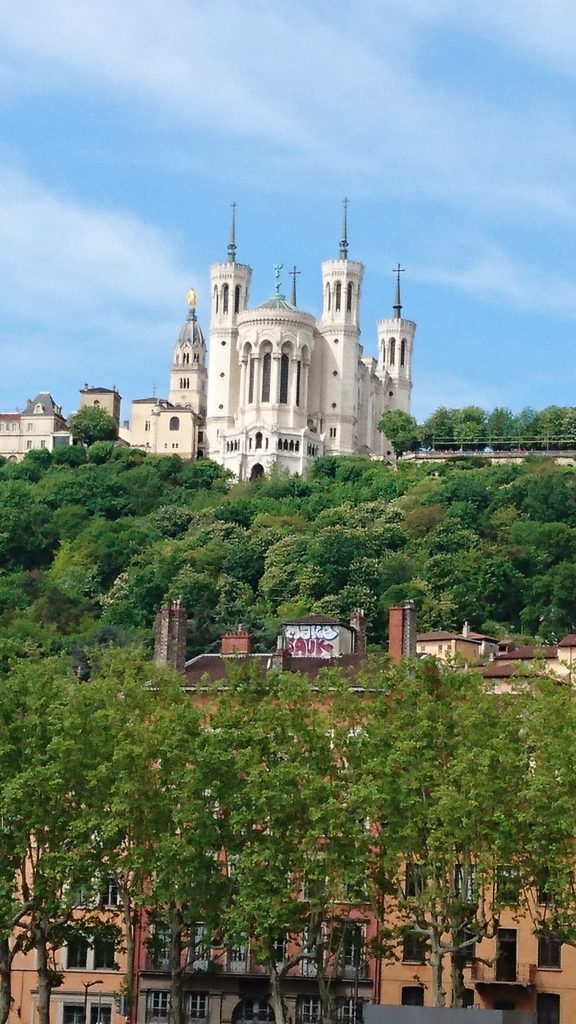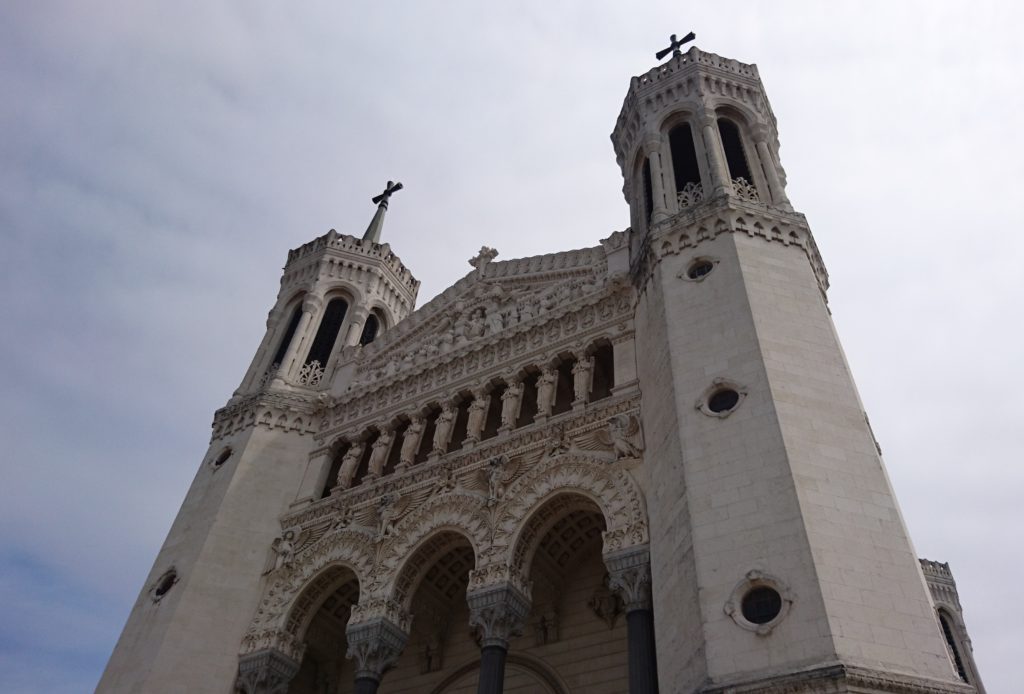 On the way down, I walked through this lovely trellis.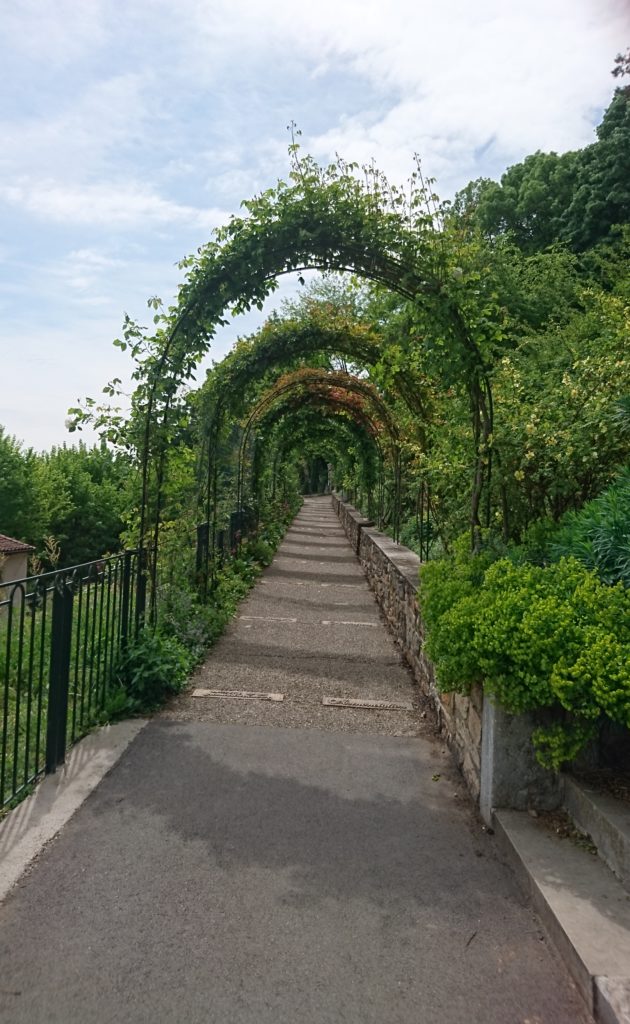 And got a glimpse of the city.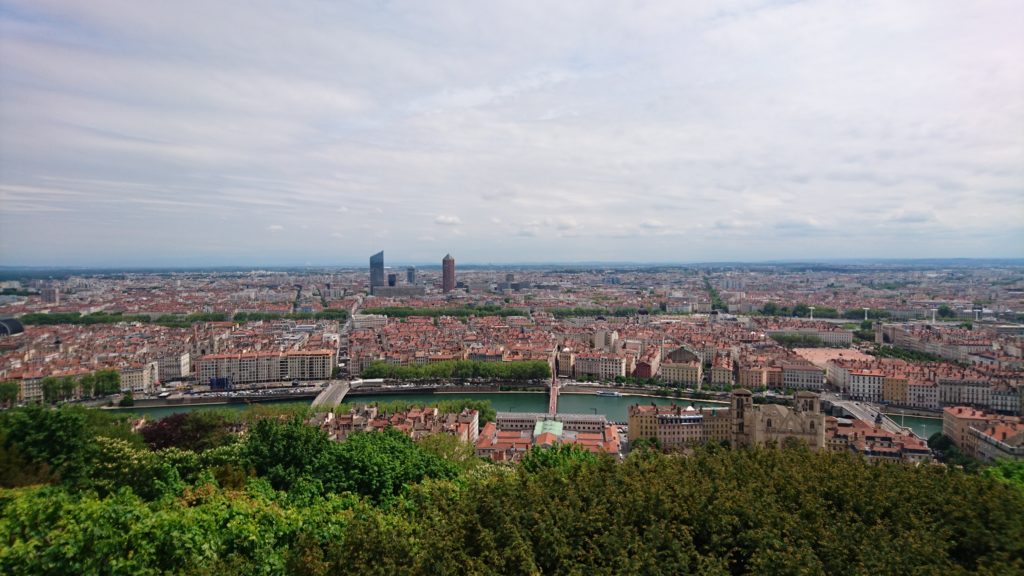 Made my way to Les Halles — a destination I'd been looking forward to for a long time, and had new appreciation for after getting smart on Bocuse and the history of how food merchants are carefully selected. Some artisan items jumped into my stomach or shopping bag. Next time I need to come here on the first day.
Note from January 2020: I still dream of perfectly shaped melons so sweet, symmetrical artichokes and tasty red jewels. Even the basket was adorable, and Steve thinks I'm insane for keeping it.
I also bought two locally made cheeses, Saint Felicien and Cervelle de Canut, plus a rustic baguette. It was crazy hard to cut myself off, but I knew I wanted dessert this evening so needed to save my appetite.
At Daniel et Denise Saint Jean, I was one of the first to be seated and there was no music. Crickets. Later a big group came in, and the bouchon became loud and animated, and that put me at ease as a person sitting alone. I translated the menu prior to arrival and already knew what I wanted to order, unless a daily special changed my mind — salade Lyonnaise to start, roasted Bresse chicken as a main and floating island for dessert.
The server cautioned me that the salade Lyonnaise was untraditional, done their way, and that was fine with me; and my main would be served with macaroni and cheese, also groovy with me (and OMG, the best I've ever had!). I switched floating island for homemade blackcurrant sorbet and cassis.
My excitement over the sorbet might've contributed to an oversight in reading it was swimming in grappa, which I only realized after taking a spoon so big I shocked myself. Thus, the second incident of accidental drunkenness.
Decided to walk it off with a 45-minute stroll at sunset.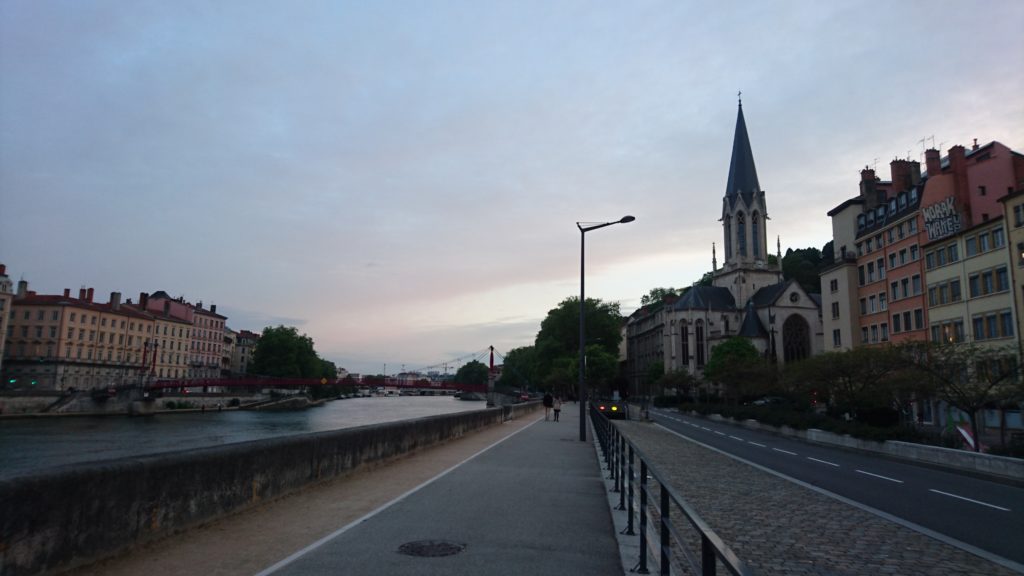 The next day at sunrise, I mailed the postcard included at the top of this post and gawked at more architecture before leaving for the airport.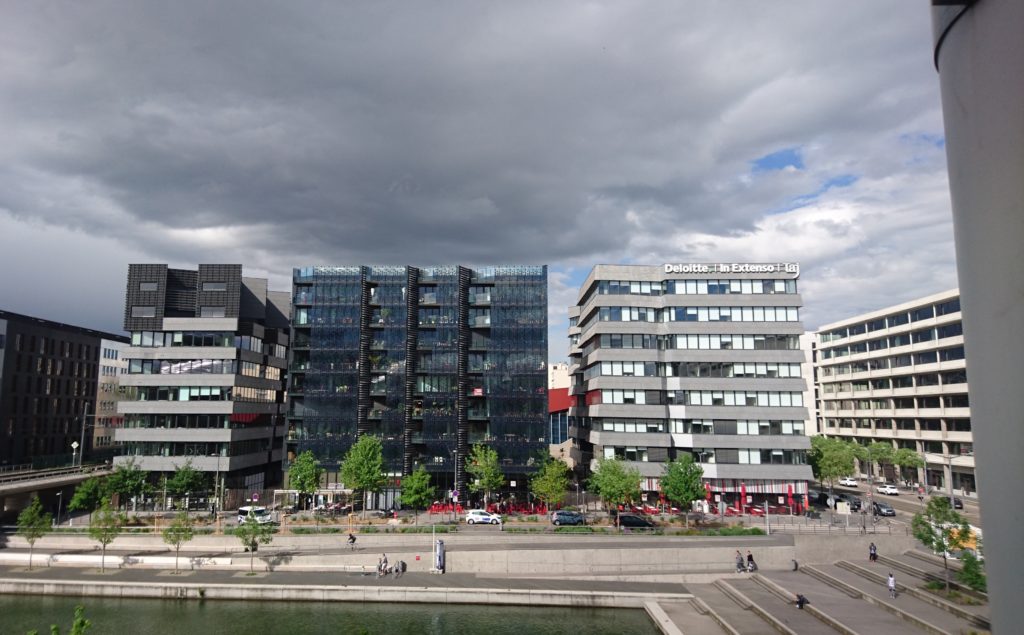 To get this photo of the black "microchip" building, I went to the top of the shopping mall across the reflecting pool.
Wish I could've stayed longer to eat more, see more and explore more. Love Lyon.